Norwegian Progress party unhappy with a portrays of them linked to mass murderer Breivik


Thursday, 12 September 2013
Norwegian Progress Party was outraged when after its election success various foreign media outlets tied the party to the Norwegian mass murdered, Anders Behring Breivik. The Party now pleads with the Norwegian foreign office to help clean its image abroad.
The British Independent wrote that Norway's anti-immigration Progress Party, which once counted the convicted mass murderer Anders Behering Breivik among its members, would enter government for the first time as part of a coalition under Conservative Party leader Erna Solberg.
The independent was just one of many international media houses that wrote and connected the Progress Party and far right Mass murderer. Others according to Norway's national broadcaster NRK includes
Italy's largest newspaper, Corriere della Sera , which writes that "They are xenophobic and have allied themselves with the conservatives: Shock choices in Oslo. Breivik party against government power," the newspaper reported yesterday.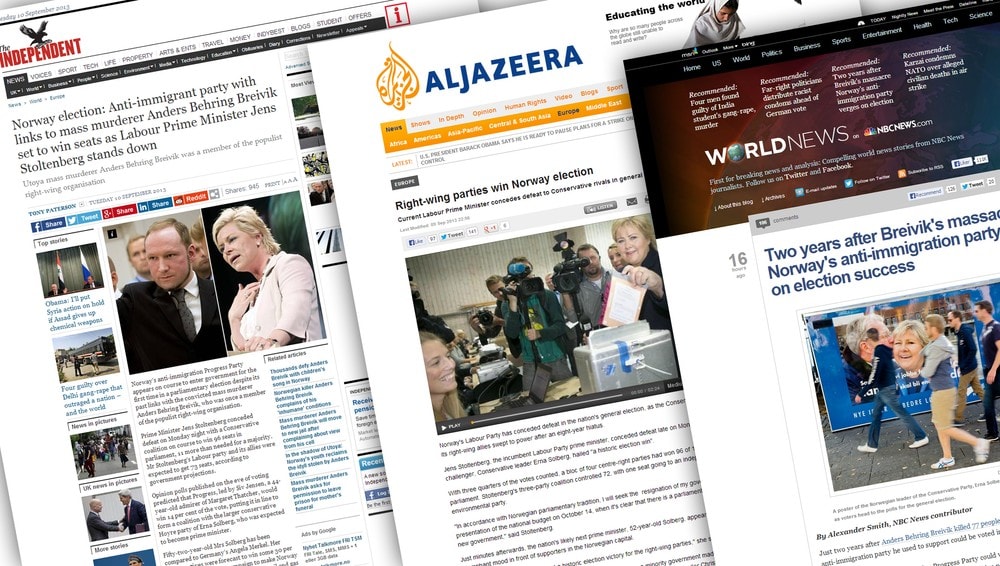 The way the foreign media saw the Progress party - image NRK
The article got the Norwegian Embassy in Rome to submit a trouble message to the Norwegian foreign office where they ask for advice.
Aljazeera and Sky News have tied the party as that which Anders Behering Breivik was a member as a young man and that for the first it will be in government.

Now the Progress Party wants to run away from that relationship and go as far as they can from it.
"Now we ask the Norwegian Ministry of Foreign Affairs for help in getting foreign media to stop linking the party with the mass murderer," Anders Bering Breivik, reports NRK about the request made by the Progress party.
"The foreign office should ensure that journalists, newspapers, and news channels in the countries are informed about how it actually is," says Ketil Solvik-Olsen, progress party's fiscal policy spokesperson.
He now hopes that Norwegian embassies around the world will help clean up the image of the party as linked to Breivik and fascist ideology.
But outgoing Foreign Minister, Espen Barth Eide told NRK that it is up to the Progress Party to answer the media.
"We help them as best as we can but it is they who must say what their policy is," says Eide.
He also notes that there is a common interest in Norway based on the image of the country abroad.
"We follow the situation closely as it is a matter of the way other countries view Norway," he says.

An academic and a lecturer of Political Science at the University of Oslo, Anders Ravik Jupskås, working on a doctorate program on the Progress party believes the way foreign media reviews the party is evidence of a lack of understanding of the distinction between right-wing populism and right-wing extremism.

He points out that Breivik resigned his membership of the Progress party because he believed the party was not radical enough and thinks it is disturbing that foreign media can not tell the difference between a violent terrorist and a legitimate political party.
By Scancomark.com Team