Front page / Headlines news
---
Scandinavian
Companies and Market on
Social Media Networking
---
Business and Finance new videos
---
JM acquiring building rights in Mölndal, Gothenburg
Tuesday, 11 June 2013
Property company, JM announces that it is acquiring the "Kvarnbyvallen" project in Mölndal, Gothenburg. The deal is worth SEK 112 million including recognized costs in the project. Occupancy and payment will be in June 2013.
Sunday, 16 June 2013

Swedish - Finnish telecoms company, TeliaSonera has had an appointment of a new CEO to replace Lars Nyberg, who resigned in February. He is Johan Dennelind.
---
Sunday, 16 June 2013

British Airways is reported to have made an order of 10 787 Dreamliner planes, confirmed news reports from the UK according to Reuters news agency. The deal is a worth about $2.5 billion (1.5 billion pounds) ...more from Reuters.
---
Saturday, 15 June 2013

Airliner, Norwegian has registered its new Dreamliner aircraft in Ireland instead of Norway as the company escapes Norwegian labour laws.

---
Friday, 14 June 2013

The Chinese owners of Volvo Cars Corporation, Geely, led by Li Shufu has used its power as the strong shareholder and pumped in nearly Skr1.8 billion into the company.
---
Wednesday, 12 June 2013

There was a large fire this morning at the nuclear power station Ringhals in Sweden.
---
Wednesday, 12 June 2013

H & M same-store sales were flat in May (+3). Total sales rose by 9 percent compared with the same month last year when sales growth was 12 percent.Sales figure is excluding currency fluctuations and including VAT.
---
Tuesday, 11 June 2013

Swedish free school company, JB Group is filing for bankruptcy, signalling the death of one of Swedish biggest education companies.
---
Tuesday, 11 June 2013
Interesting tale in a German work scene in which a banker fell asleep on the computer keyboard during working hours. He transferred load of money to some one and got his colleague fired. BBC reports
---
Tuesday, 11 June 2013
Alfa Laval announces that it has won an order to supply Alfa Laval Packinox heat exchangers to a petrochemical plant in the Middle East.
---
Monday, 10 June 2013

Cash handing and security Service Company, Loomis announces that its Norwegian subsidiary has been appointed by DNB, the largest bank in Norway, to take over all their cash handling services in the country.
---
Monday, 10 June 2013
Swedbank today announced a tender offer to the holders of certain series of its outstanding notes which are guaranteed by The Kingdom of Sweden.
---
Friday, 07 June 2013

Denmark just presented an example of the negative side of wind energy. With limited wind speed in the past months, in Denmark, electricity prices have sky rocketed.
---
Thursday, 06 June 2013
---
Thursday, 06 June 2013
---
Wednesday, 05 June 2013

Last year Swedish furniture giant, Ikea reported a new sales record. Total sales was reported to reach Skr250 billion through the company's 340 stores.
---
Wednesday, 05 June 2013

Volvo Car Corp., opened its doors for its new factory in Chengdu, China that will employ 1,100 people and plans to produce for the Chinese and Asian market.
---
Tuesday, 04 June 2013

There is increased evidence that his year, Volvocars has started seeing increased car sales in China. According to reports, sales grew by 27 percent compared with the same period last year.
---
Tuesday, 04 June 2013

Autoliv Inc., automotive safety systems manufacture announces that Dr. Rikard Fredriksson, Director of Biomechanics and Restraints at Autoliv Research in Vårgårda, Sweden, has received a U.S, Government Award for Safety Engineering Excellence.
---
Friday, 31 May 2013

63 people were evacuated from the platform, Island Innovator in Askøy outside Bergen on Friday after it started moving uncontrollably.
---
Thursday, 30 May 2013
Swedish based heat transfer, centrifugal separation and fluid handling, company, Alfa Laval said it has acquired U.S. based Niagara Blower Company (NBCo), a manufacturer of energy-efficient niche heat transfer solutions.
---
Tuesday, 28 May 2013

Loomis announces that its Turkish subsidiary has signed a three-year agreement with HSBC Turkey for cash handling services across Turkey.
---
Monday, 27 May 2013

In an exclusive news report, the British TV channel 4 known for its in-depth investigative news reports has exposed in a first hand view of how worker in Bangladeshi sweatshop factories work.
---
Saturday, 15 June 2013

Swedish female boxing featherweight powerhouse, Frida Wallberg lost her title defence game of the Featherweight WBC belt to the Australian, Diana Prazak in a dramatic fashion that caused panic in the fight auditorium.
---
Friday, 14 June 2013

A type of drug that transforms a human being from human to an animal, otherwise known as "deadly cannibal drug" or "zombie drug" has almost made Sweden its home.
---
Friday, 14 June 2013

Despite Swedish house prices, expanding at astronomical levels with reports of the prices here being over valued, there is increased talks of aspects of risk in some sectors of the market.
---
Friday, 14 June 2013

Swedish top female managers working for the state owned corporations struggle to earn maximum incomes when compared with their male counterparts.

---
Thursday, 13 June 2013

As more Southern Europeans have been leaving their countries as their economies fail, guess where they have been heading to in search of that dream - Not Britain - Northern Europe and Germany. Greeks and Spaniards in particular, fleeing recession and sky-high unemployment at home have been flocking to Germany, reports Market Watch
---
Thursday, 13 June 2013

Swedish embassies have been warning people in countries such as Egypt and Dubai not to allow themselves to be lured into buying properties, pieces of land and / or start businesses in Sweden believing that it will lead to automatic residency.
Thursday, 13 June 2013

In the aftermath of the economic crisis, which started in earnest in 2008, in which Sweden has not yet fully emerged from, it is being said that investments made by Swedish people has grown on average by 6 percent since the 2008.
---
Wednesday, 12 June 2013

There are indications in Sweden that Swedish troops could be sent to Syria after reports that Carl Bildt, foreign minister had a chat with Ban Ki-moon, UN secretary general.
Thursday, 13 June 2013

Several cases of banana was found to contain up to 100 kg drugs - possibly cocaine - found in bags placed in banana boxes from Colombia and shipped to Coop Denmark in Brøndby.
---
Wednesday, 12 June 2013

Sweden hardly complain about EU proposal but this time regional airports authorities here feel that an EU rule on subsidies to them is a blow below the belt. If the proposal Brussels is talking about goes on and implemented, then Sweden fears that over 30 of its regional airports risks closure.
---
Wednesday, 12 June 2013

New figures from the survey of the Swedish media viewership and readership from conventional news sources show that many Swedes are opting out of TV channels and various official news programs such as morning newspaper.
---
Wednesday, 12 June 2013

The International Labour Organisation (ILO) says that hundreds of millions of girls and boys throughout the world are engaged in work that deprives them of adequate education, health, leisure and basic freedoms, violating their rights.
---
Tuesday, 11 June 2013

A new Swedish study has shown clearly the increased risks in obesity and premature birth. According to it, a third of all pregnant women who are overweight or obese are enrolled in prenatal care.
---
Wednesday, 12 June 2013

British workers have experienced extraordinary falls in their wages in the past five years, with more than a third seeing their pay cut or frozen, This is driven by employers responding to tough economic conditions which make them cut wages rather than laying off workers the institute for Fiscal Studies showed Wednesday- BBC
---
Tuesday, 11 June 2013

The graduate dissipation of Nokia, Finland's strongest IT Company had left a huge vacuum in the country's tech department. This has made the former directors and specialists of the company to use their contacts and connections to force moves to attract investment in to the country.
---
Tuesday, 11 June 2013

Danish economist identifies that Swedish house prices are over valued by 15percent. This reflects what have been said and written about the Swedish house prices situation now for the past two to three years by various home and foreign organisations.
---
Tuesday, 11 June 2013

Scandinavia is reputed o its expensiveness but it turn out that other cities around the world has tended to be more expensive than expected.
---
Tuesday, 11 June 2013

Descendants of non EU Immigrants, born and raised in Denmark, participate less in democracy than their parents, who immigrated to Denmark from non-Western countries.

---
Monday, 10 June 2013
Despite record unemployment in the continent, anemic growth at best and a manufacturing sector in contraction, French President Francois Hollande said this weekend that the euro zone crisis is over. More from CNBC
---
Monday, 10 June 2013
Months after months the Swedish government and its Alliance coalition keep on loosing support in opinion polls. The latest one out today, Monday, show how the current governing coalition will struggle to keep power after the next election if the current opinion polls are to be believed.

---
Monday, 10 June 2013

The Norwegian security service would have been able to stop the Norwegian mass murderer, Anders Behring Breivik. But they failed because their definition of terrorist was skewed towards people with background of Islamist character.
---
Monday, 10 June 2013

Swedish households experienced a weaker trend in home prices in June compared to what they did the previous month, the Swedish bank. SEB seem to think.
---
Sunday, 09 June 2013

The Danish tax authority is seeking Dkr5.5 billion in additional tax from healthcare company, Novo Nordisk. The grounds for that is accusation that the company has been channelling unaccounted amounts of money abroad to tax havens. Novo however has rejected accusation.
Monday, 10 June 2013
An American radio talk show host, chronic conspiracy theorist, Alex Jones, who also owns a conspiracy website called Infowars.com, appeared on the BBC's Sunday Politics show and created a massive scene about the Bilderberg Conference. Here is how it turned out..

---
Sunday, 09 June 2013

The leader of the Swedish Social Democrats party, Stefan Löfven who should be the next Prime Minister should his current opposition party and coalition win the next election is seeing his popularity shift upwards somewhat.
---
Sunday, 09 June 2013

Perfect loophole in the law which meant that it must be granted - refusal will allow the anti discrimination law will kick in.
---
Saturday, 08 June 2013

Today, Princess Madeleine and Christopher O'Neill got married in the Castle Church in Stockholm.
---
Friday, 07 June 2013

Talking about biting the figure that feed you, the Swedish national state own television, Swedish television (Svt) seems to have made its master angry when it exposed critical questionable ethical behaviour about one of Sweden state owned power companies, Telia Sonera.
---
Friday, 07 June 2013

Two Swedish top government cabinet Ministers, Finance minister, Anders Borg and Foreign Minister Carl Bildt are part of the legendary secrete group, the Bilderberg Group that is currently meeting in Watford in the UK. The meeting started Thursday.
---
Thursday, 06 June 2013

The support is still small for the Danish perspective but it is getting significant when the Danes are questioned about their support for the EU. The Danish population, according to a new poll from Gallup are beginning to wonder away from the lofty European Union project.
---
Thursday, 06 June 2013

Danish Police is complaining that its driving license database registry which also contain social security numbers was hacked in the summer of 2012, and there may have be changes made to its content.
---
Thursday, 06 June 2013

The Swedish Princess Madeleine, three days before her wedding with Chris O'Neill was stopped by the police for driving on the bus lane in Sweden. The debate now is whether she should pay for the fine and sectioned as anybody else.
---
Thursday, 06 June 2013
Danish unemployed should learn from eastern Europeans and start asking for lower wages, according to the Danish Chamber of commerce, igniting the argument that eastern European workers are thus attractive just because of their acceptance of low pay rather than their ability to work better.
---
Wednesday, 05 June 2013

The Swedish newspaper Svenska Dagbladet that reported about Russian jet fighters practicing nears the Swedish border on good Friday night, with the Swedish military not reacting is reported to have been reported to the Swedish security police, SAPO.
---
Wednesday, 05 June 2013

Norwegian defense contractor, Kongsberg, has a new ship-killing missile that can deliver a 275-pound high explosive warhead from more than 100 miles away.
---
Wednesday, 05 June 2013

Christian Democrat defense policy spokesperson, Mikael Oscarsson want Sweden to become a member of NATO
---
Wednesday, 05 June 2013

The Swedish education system has been identified as one reasons why the country may partly have such high youth unemployment relative to other comparable countries.
---
Wednesday, 05 June 2013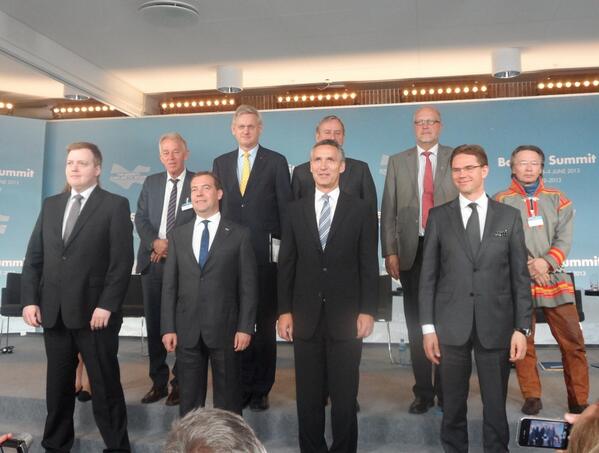 Foreign Minister, Carl Bildt was stopped by border guards on Tuesday when during the Barents Sea meeting in Kirkenes in Norway tried to get into Russia to visit a church.
The image is of the Barents Euro-Arctic Summit 2013

---
Wednesday, 05 June 2013

How can a worker in Sweden earn Skr30 an hour? This is what some Latvian buss drivers employed by the Swedish bus company, Bergkvarabuss were paid. They had been loaned Bergkvarabuss by an agency last year.
---
Tuesday, 04 June 2013

Not long ago Iceland was the laugh of all, castigated and threatened by the likes of the UK and Holland after the country suffered from the financial crash of 2008. But now the economy has rebounded and its new prime minister, Sigmundur Gunnlaugsson is now talking of debt write off this year. Read more from Reuters
---
Tuesday, 04 June 2013

The dangerous breast implants manufactured by the French company Poly Implant Prothèse (PIP) which is currently in the bodies of about 4,000 women in Sweden have been recommended to be removed.
---
Tuesday, 04 June 2013

If a general election was to be held in May 2013, the current governing political parties or the Alliance Coalition, at this moment would received 40.7 percent votes. This means the governing parties are being pounded
---
Tuesday, 04 June 2013

The Swedish government has been accused in a new data analysis of presiding over a failed and costly energy policy.

---
Monday, 03 June 2013

Finland is seeing astronomical rise in unemployment in the IT sector and for this reason the Union of Professional Engineers in Finland are calling for a limit on the number of foreign specialists allowed to work in Finland.
---
Sunday, 02 June 2013

The head of the Swedish far right party has emerged the best-paid politician in the country with much of the pay coming from taxpayers, which includes those his hard anti immigration, anti EU and racist rhetoric are attacking.
Sunday, 02 June 2013

In Finland, Romanian criminal gangs have been burgling dozens of self-service fuel pumps in southern Finland, half of them in the Kanta-Häme region and they were caught in the act. Shame to Romanians who continue to invite western resentment of them.
---
Friday, 31 May 2013

The Swedish free school idea, which has been copied by the British government under the leadership of David Cameron and its Conservative party, is heading to a brick wall. JB Group, which is one of the nation's biggest provider of private schools known here as friskolar is shutting down some school jeopardising the future of students
---
Friday, 31 May 2013

The rich country of Kuwait could not pay the poorer workers who work for them and now the Swedish laws will try to kick in and see if it can prise some money court of them.
---
Friday, 31 May 2013
China, with its strong growth has long been extremely attractive for Swedish manufacturing companies. But now the interest is fading as more Swedish business executives start looking at China no longer as a favourable place a place to stake their future growth trajectory.
---
Friday, 31 May 2013

The European economic philosophy of massive austerity continues to push many people into the unemployment statistic. This is because the Euro zone unemployment reached 12.2 percent in April a new record.
---